On 2 September 2015, IBM launched its Smarter Commerce Centre of Competency (SCCOC). The centre aims to enhance the four key competencies of smart commerce: buying, selling, marketing and servicing clients – using commerce solutions that leverage the cloud, data analytics, social media outreach and security platforms.
"Through the Centre of Competency, we intend to bring an integrated lifecycle approach to e-commerce, to improve how businesses connect with their supply chain and customers through their websites and even social networks. We will also be building critical capabilities and deepening skills to raise the competency of professionals in the industry and generate higher value for our clients in the region," said Tim Greisinger, Managing Director, IBM Singapore.
"With the establishment of the Centre of Competency, IBM is well positioned to help clients improve process efficiency, create new market opportunities and accelerate the digitisation of businesses. The Centre will also groom Singaporeans in software development and analytics to serve the fast growing Asia-Pacific region," said Thien Kwee Eng, Assistant Managing Director, EDB, who was the guest-of-honour.
The SCCOC aims to employ over 30 research scientist and engineers by end 2017 to oversee the development of products and solutions. The SCCOC will be based in the IBM Singapore Technology Park (ISTP) at Tampines, and is expected to be fully operational by the end of the year.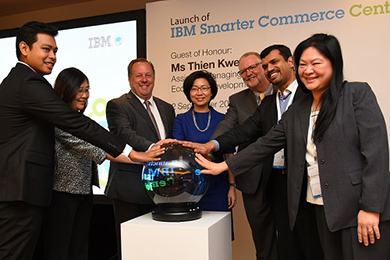 From left
Mr Philbert Gomez. EDB Head of Digital. Analytics and Software; Miss Annie Wong. IBM Product Distribution GM. Singapore; Mr Tim Greisinger. IBM Singapore D; Miss Thien Kwee Eng, Assistant MD. EDB; Mr Hoggarth, Director. IBM CIO Office - Global Product Enablement: Mr Dulles Krishnan. Executive Director, IBM Commerce. Asia Pacific; and Miss Hwee Lee Yeo. Director, Software Services, Software Group. Asia Pacific, IBM.
Back