On 7 October 2015, Flavours and Fragrances giant Givaudan opened its fragrance creative centre and production hub in Singapore. This is its second global perfumery school in Singapore – representing its largest global investment of S$100 million, for the firm's fragrance division. The company which has been in Singapore for more than 20 years, now hires over 550 employees in Singapore.
The opening also marks the first time the Switzerland headquartered firm has set up a global perfumery campus outside France, aimed at training and developing perfumers in Asia.
The Fragrance Creative Centre offers expertise ranging from consumer insights to fragrance evaluation facilities, and will serve as the region's central location for the firm's growing fine fragrance business in Asia. It is already fully operational and employs more than 170 staff from various countries. In addition, the new production facility in Tuas, which uses highly-automated systems and cutting-edge technology, will help to achieve shorter lead times in production and delivery, helping customers to go to market faster.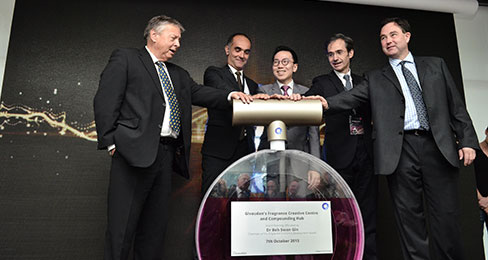 From left
Dr Jurg Wither, Chairman of the Board of Directors (Givaudan), Gilles Andrier. Chief Executive Officer (Givaudan), Chairman Dr Beh Swan Gm (EDB). Maurizio Volpi, President Fragrance Division (Givaudan), Jeremy Compton. Senior Vice President, Regional Head of Consumer products APAC (Givaudan).
Back